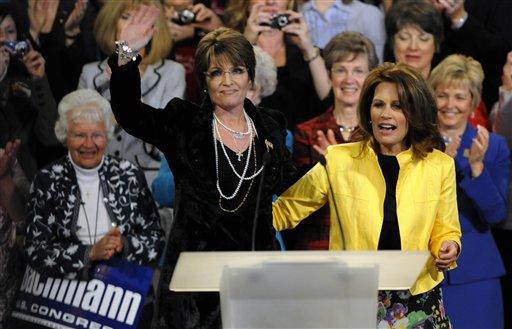 After the killing of OBL, everybody was as united as can be. President Barack Obama got praises from everybody, even some of his nemesis like Donald Trump, Mike Huckabee, Sean Hannity, Bill O'Reily, Glen Beck, FOX News, etc. I mean everybody.
….except that one or maybe two women. Sarah "Hater" Palin, and "Cruella Deville" Michele Bachmann
Here's Sarah Palin
Here is Michele Bachmann
"I want to express my deepest gratitude to the men and women of the U.S. military and intelligence community. Their persistence and dedicated service has yielded success in a mission that has gripped our nation since the terrible events of 9/11. Tonight's news does not bring back the lives of the thousands of innocent people who were killed that day by Osama bin Laden's horrific plan, and it does not end the threat posed by terrorists, but it is my hope that this is the beginning of the end of Sharia-compliant terrorism." [Source]

Get a grip. Are you really American, or do both of you really hate Barack Obama for stealing your shine (which was not coming anytime soon)? Wait are you trying to play "Let's see who can one-up the "I hate everything Barack Obama does. Even the way he farts?" I don't know but let hear it for the domestic haters of the United States, Sarah Palin and Michele Bachmann. My man Silky Johnson will accept the award for you and he is at the podium right now.
~Stay Hungry My Friends
SA